COVID-19: We are temporarily closed but hope that we may be able to offer a restricted service from 8th June. Please contact us with any booking requests or queries.
PONY CAMPS 2020
Summer Pony Camps are subject to restrictions being lifted according to road map dates. Please note we do not yet know when we will be permitted to facilitate learner riders: 
1. Monday 6th July – Friday 10th July

(non-residential and only if you live within 20km of us).
2. Monday 20th July – Friday 24th July

(residential places and riders from further away).
3. Monday 10th August – Friday 14th August

(residential places and riders from further away).
4. Monday 17th August – Friday 21st August
9.30 a.m. – 5.30 p.m.
10% discount for second and subsequent family members.
Limited availability so book early!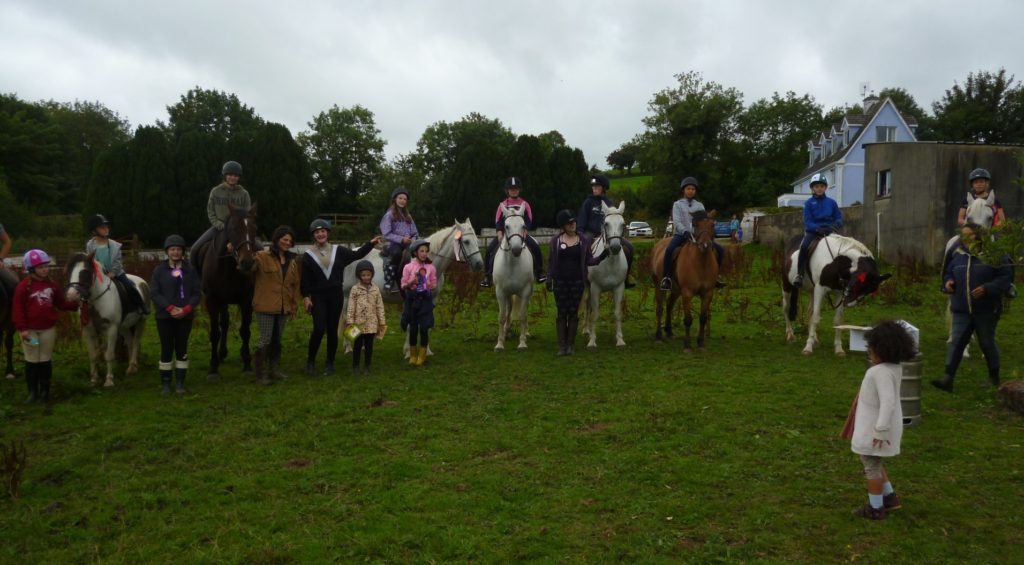 About our Pony Camps
At our pony camps, children spend a minimum of two hours each day in the saddle.
This includes riding instruction in lessons and on treks, and during mounted games.
The rest of each day is spent learning about ponies, including how to groom, feed, lead, tack up and care for them. We emphasise and train children in the importance of body language and positive reinforcement in the handling of horses and ponies. We also teach campers about tack, in particular the parts of the saddle and bridle, and how to clean them. Children are also expected to help with stable management, including mucking out and sweeping the yard.
Each camp ends with a gymkhana on the final day, when campers can compete in races, obstacle courses and jumping with the chance to win rosettes and other prizes.
Our Pony Camps are geared to teaching riding through the use of natural horsemanship techniques. We focus on developing a bond with your pony in and out of the saddle. We also focus on teaching good riding techniques from the start, particularly in relation to developing balance and an independent seat.
Who can come?
Children aged 5 – 18 of all levels of ability will enjoy these camps, from lead-rein novices to competent jumpers.
Riders are divided into small groups, based on their age and experience.
Pony-owners can keep their own ponies at the camp for a small additional charge.
Children should bring a packed lunch and snacks unless they are staying with us.
Young people aged 12 and over can stay residentially.

Parents with younger children can stay over for the week.
The Association of Irish Riding Establishments annually inspect and approve our facilities, horses and staff. We are proud to have been approved since the year 2000. So you can horse ride or pony trek with us knowing we have a track record of high equine welfare and rider safety standards.