Tipperary Mountain Trekking Centre are the proud hosts of the 2019 Trec Ireland Championships from 17th – 19th May. We are looking forward to meeting competitors from across the globe, who will be demonstrating their equestrian skills in a series of challenges. as well as orienteering on horseback through the beautiful countryside around the centre.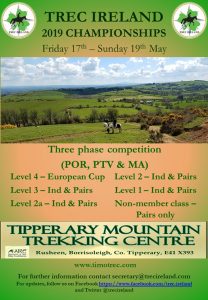 Spectators are welcome on Sunday 19th May, when riders will be showing off their horsemanship over jumps and other obstacles. There will be a charity Hobby Horse class for spectators as well as riders. A range of stalls and a hot drinks and wraps bar will also be on site for a bit of retail therapy and sustenance.
There is a non Trec members class for keen riders who want to try something a bit different. Closing date for entries is Friday 3rd May. Entry forms and schedule can be downloaded from the Trec Ireland website.